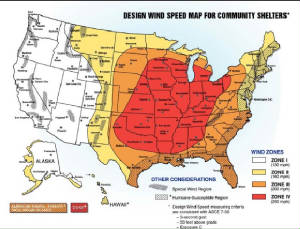 FAST FACTS

Tornadoes can strike with little or no warning. With a safe room already installed inside the home, occupants can reach shelter quickly, with no need to exit the home.

Readily installed by a certified contractor with conventional tools, the panels retrofit to roof, floor, side walls and door elements. The framing is anchored directly to the foundation so that, in the event that the surrounding structure is destroyed, the shelter should remain uncompromised and its inhabitants will be protected from flying debris.
Many homes do not have a basement. Shelters on the market are based on buried outdoor, under the garage installations, and/or require special construction. They are manufactured from thick concrete, or heavy steel and are not practical to install inside a home. There is insufficient response time during a tornado to get to an outdoor shelter. The fastest way to seek protection in a fast moving storm is to move to the interior location of your home, such as a windowless bathroom, closet etc. The ICS product retrofits to a regular use space, and protects the occupant within the home. It is fully customized to any space through a modular design. The product can be used in permanent and mobile homes, schools, office buildings and tool sheds.
April 2011 marked a new record for a continuous outbreak of tornado events. 358 tornadoes were confirmed in the eastern half of the United States. This tornado outbreak was the costliest and one of the deadliest in history of the US. Four of the tornadoes were destructive enough to be rated EF5 on the Enhanced Fujita Scale, which is the highest ranking possible. 348 people were killed in this storm. They would be protected if they were able to take shelter with the ICS technology.